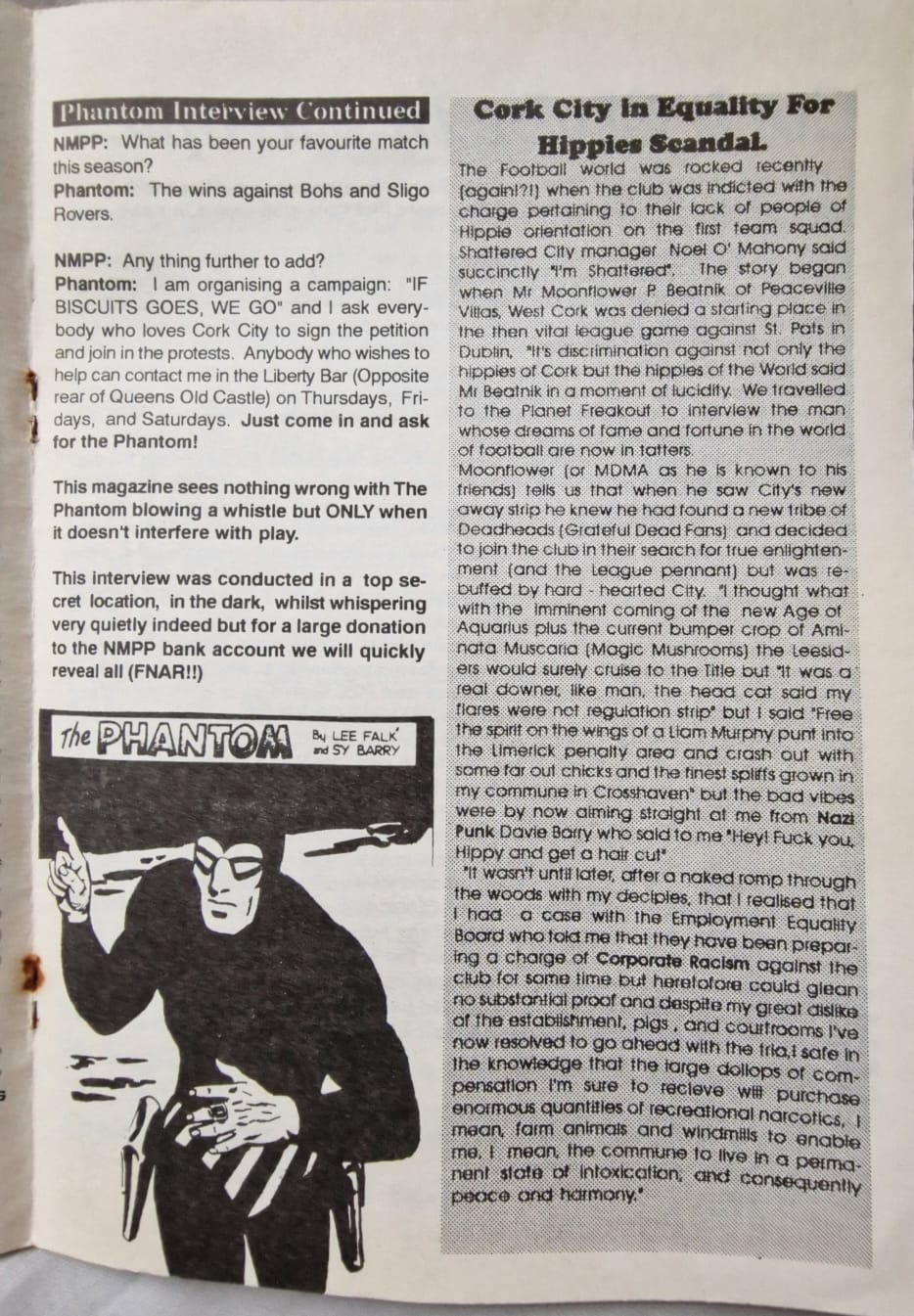 Interview with
The "Phantom Whistler"
No More Plastic Pitches: How exactly did you come to fame?
Phantom: I began blowing the whistle at the home game to Dundalk in November. I first got newspaper coverage on Mondays Evening Echo, 3rd December, with the Headline "Phan- tom of the Cross". Then followed coverage on Multi-Channel T.V. and National Newspapers.
NMPP: The club has put a lot of effort into finding you and banning you from the ground but they have failed so far. Tell us some of your near escapes from the authorities.
Phantom: The club know who I am, they know where I'm from, yet I've never been stopped at the turnstiles! However before Christmas, against St. Pats, the stewards (Boo, Hiss) made a number of half-hearted attempts to remove me from the ground, but the aggression of those around me deterred them, I think.
NMPP: On a more serious note, do you not think that you are a nuisance to the club as they have been in trouble with the F.A.I. with regards to your actions?
Phantom: Yes, I accept this, and I regret causing trouble for Cork City F.C., and this was not my intention. But looking back on it I probably saved them from two home defeats at the hands of Dundalk and Shelbourne!
NMPP: The supporters are equally divided on their opinions about you. Half of them think of you as a folk hero while the other half want to kick your ass so you do know that you're tread- ing on dangerous ground?
Phantom: Well I prefer to dwell on the folk - hero bit! And anyone wishing to kick my ass is welcome to try! But I pay my money, I travel away, and so I am entitled to sing and chant and have fun in The Shed with the youngsters (000ER). I've made a lot of friends, especially Collie and John, Tina and Karen, Doughnuts,
Ashley and Paul and dare I mention the "Friends of Cork City?".
NMPP: When you look back at the Shelbourne match when you interrupted the flow of play do you regret having done such a thing as you lost a lot of followers after this?
Phantom: Yes I regret interrupting the flow of the game and I have assured the stewards that it will not happen again. And I ask any would- be whistlers not to upset the game. However I will continue to blow the whistle before the game and during the interval.
NMPP: What do you think of the current off the field problems affecting the club such as Patsy Freyne's Transfer request and the Phil Harring- ton debacle?
Phantom: After such a long absence it's good to see big-time soccer back in Cork. But the management have been consistent in their disastrous handling of issues such as Fergie's transfer, the unprofessional treatment of Patsy Freyne and the scandalous decision to allow Johnny Butler to return to Scotland. The failure of Noel O' Mahony and Pat O' Donovan to renew Phil Harringtons contract on his terms sickens me. If Phil goes to Shamrock Rovers, or Derry, or Cobh etc, City will lose a lot of supporters, me included. The message is "We don't want a new stadium, we want Phil!" (At the time of this interview Pat O'Donovan has barred the Phantom for his part in the after match protest by about 30 fans)
NMPP: Who is your favourite player?
Phantom: Phil Harrington of course. I also think Cormac Cotter shows a lot of intelligence on the ball but the negative crowd response is unfortunate, I feel it makes him nervous.
NMPP: What has been your favourite match this season?
Phantom: The wins against Bohs and Sligo Rovers.
NMPP: Any thing further to add?
Phantom: I am organising a campaign: "IF BISCUITS GOES, WE GO" and I ask every- body who loves Cork City to sign the petition and join in the protests. Anybody who wishes to help can contact me in the Liberty Bar (Opposite rear of Queens Old Castle) on Thursdays, Fri- days, and Saturdays. Just come in and ask for the Phantom!
This magazine sees nothing wrong with The Phantom blowing a whistle but ONLY when it doesn't interfere with play.
This interview was conducted in a top se- cret location, in the dark, whilst whispering very quietly indeed but for a large donation to the NMPP bank account we will quickly reveal all (FNAR!!)
The PHANTOM
By LEE FALK and SY BARRY