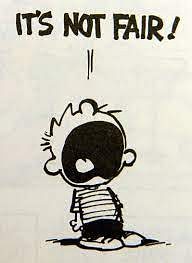 "Its not fair to ask of others, what you are not willing to do yourself" – Eleanor Roosevelt
One of history's simplest messages, has always been, that life isn't fair, no matter how underserving an outcome is, some poor soul ends up on the wrong or indeed right side of it.
Joan of Arc being burnt at the stake.

Jordan Henderson becoming a trillionaire for selling his rainbow laced soul to the devil incarnate

Bambi's mother dying and

Cork City fans who travelled to Oriel Park last Monday night being punished for loyalty and devotion, by a football club that has lost all right to expect that loyalty and devotion, but whose own arrogance will continue to demand it none the less.
The one thing we have all learned during our own examples of living through the life isn't fair sections of our existence, is that you must keep going, keep trying, keep plugging away and eventually it will change. So, the question becomes, when did Cork City Football Club just accept its playoff faith? When did it decide it was no longer worth fighting for the cause, no longer worth fighting for its fan base, no longer worth going to war for those souls who travelled to the League of Ireland's own version of Vietnam, on a dreary Monday night to support a club who it appears no longer believes in its own ability to avoid a playoff, and is therefore happy enough to take its chances in a one off game to determine its whole future, not just its immediate one.
The Liam Buckley as manager experiment hasn't worked, I take no pleasure in saying that. I met Liam once, post Treaty away in the cup, a genuinely lovely man who I have to say was very understanding of the situation TOTAP found itself in regarding its relationship with the club. Everyone wanted it to work out for him, but it clearly hasn't, not as first team manger anyway, but he may well still have a future here as the DOF and that is a role that will still be a massive one going forward.
Why hasn't it worked? Honestly, who really knows? The squad is not of the quality required for this division, that is the biggest single reason I can see. But Liam brought in nine players during the last window, to be fair he has lost two of those, Tiernan Brookes and Rokas StanleyVicious to long term injuries. We have suffered with an abnormally high injury rate during the season and hopefully a recent change in S&C staff may see this issue reducing in the future. But he didn't bring in a RB, a CB nor a striker in that window, three areas that most fans would have argued needed immediate attention. Nine players are a lot to bring in in any window, no one can argue that the investment from club Owner, Mr. Dermot Usher hasn't been there, but the most glaring weaknesses of this squad haven't been dealt with.
A Ruairi Keating injury leaves us with Tunde and Cian Murphy as our striking options, and Tunde wasn't even on the bench for either game last weekend. Aaron Bolger our only out and out defensive midfielder started the game against Dundalk at right back and to be fair did relatively well, but while he was filling in at RB, our footballing three in the CM were getting completely over run because none of them wanted to do the dirty work required to win tackles and get the ball back. Its ok to want three footballers in the centre of the park, tippy tapping their way up the pitch but you have to recognise the dangers in not having a ball winner amongst them, we didn't and paid dearly.
To be fair to Joe O Brien Whitmarsh, he was one who chased back, who tried to recover, who tried to do that DM job, but its not his skill set and that's ok, Joe is far more valuable to us going the other way. His reward for being the one of the three who worked hardest? He got hooked at half time along with Ben Worman. Of the nine players who came in during the window, five started the game, of the five only Ollie Byrne in goal saw out the ninety minutes. Worman, Drinan, Kravchuk and Djiksteel all got the hook, with both Kabia and Oran Crowe making appearances off the bench, Kabia may have actually rolled all the way back to Cork, such was the amount of time he spent on the ground. Tiernan Brookes and Stanley Vicious were unavailable for selection.
Nine players signed and yet we don't look any better to the eye, there are only two possibilities then.
The recruitment was sub standard and the players brought in are no better then what we had or

The management has been sub-standard and has failed to get the most out of the players.
I'm going to allow you make your own mind up on that one.
On last weeks LOI Central podcast, Dan McDonnell raised the possibility of Derry being a soft side, of there being an element within them that allows them to have their bellies tickled (my words not Dans) so I went and had a look at something, and it turns out that, yes in my opinion at least, they are soft.
When scoring the first goal in games this season, Derry is the best team in the country, winning 15 and drawing 3 of the 18 games in which they have scored first, taking 2.67 points per game or 89% of the available points. However, of the 10 games they have conceded first in, their record is abysmal, third worst in the league behind UCD and us. 10 games, no wins and 3 draws, for 3 pts of the available 30, or 10% of the available points. You want to know where Derry lost the league, there it is in a nutshell.
Which brings me to the worst record in the league, Cork City have conceded first in 18 games this season and have from those games rendered a measly three points. That gives them 0.17 pts per game in games they have conceded first, or 6% of the available points. In those 18 games they have also only scored 13 times while conceding an incredible 46 times for a -33 GD. 46 goals conceded in 18 games for an average of 2.55 goals conceded per game in which we concede the first goal. The numbers are there, I presume I don't need to say anymore. But if Derry are soft then what are we?
Finally (if your still here), I will argue all day that Cork City FC as an entity has left its fans down this year, in fact it has been leaving its fans down regularly since winning the double in 2017. Yet this season has seen fan numbers increase (as have all clubs except Dundalk), exceptional home support, fans staying with a team and management despite a horrific season. The fans will not abandon this club, nor will they abandon this team. Yes, they will air their grievances in a forthright manner but when push comes to shove for 90 mins every week, those fans are right behind that team on the pitch, if you have any doubts, wait until you see how many of those fans travel for the playoff game, be it in Dublin or Waterford (if we play Cobh).
So, the question is then, if as fans we still have this clubs back for 90 mins every week, why wont the club have our backs for the same 90 mins?
"Its not fair to ask of others, what you are not willing to do yourself"